Home Insurance Cincinnati – More Complicated than the Price We Pay For It.™
Call 513-662-7000 if you are looking for home, or landlord insurance in Cincinnati. We offer a variety of property insurance policies including Homeowners, Landlord, Condo Insurance, Vacant property Insurance, and Renters Insurance.
We can help you choose the best policy for your individual needs. Contact the property insurance experts at 513-662-7000.
For your convenience we also provide online home insurance quotes. 
Types of Cincinnati Home Insurance Policies:
Technically speaking there are six different versions of a homeowner's insurance policies.
A homeowner's insurance policy (depending upon the specific policy form) protects the home itself, detached structures on your property, your personal property, and can even provide money to cover extra expenses while your home is being repaired or rebuilt.
Additionally a Homeowners insurance policy can provide liability protection against claims or lawsuits involving damages from bodily injury or property damage. Your homeowner's insurance policy can also cover medical payments to others.
What is the most common Homeowners Insurance Policy?
The HO3 is the most common policy purchased by consumers.  Is this particular home insurance policy the best for your circumstances? It depends on your individual insurance needs. The biggest disadvantage with the HO3 homeowner's insurance policy is that your personal property (Coverage C) is only covered if the direct physical loss is caused by one of 16 different perils. (Some companies may only insure against 15 named perils.)
Click here to read a list of the covered perils in the HO3 Home Insurance Policy.
So in other words if something happens to your personal contents of your home and it is not listed in one of the named perils it will not be covered.
Types of Landlord Insurance Cincinnati:
There are three different policy forms for landlord insurance in Cincinnati and depending on your level of self-insurance you are willing to absorb will determine the type of policy form that is best for your individual needs.
You can insure your rental properties on a commercial policy form or an individual policy unless you are a small real estate investor with less than 5 units.
Both the commercial policy form and the individual policy form have three different versions: basic, broad, special.
The basic landlord policy form provides actual cash value coverage only (normally) and provides coverage for only 6-8 named perils. (depending on the company)
What is actual cash value coverage?
Essentially it is similar coverage to your personal automobile.   If your personal automobile is damaged your insurance company will only pay you what the vehicle is worth from a market value standpoint.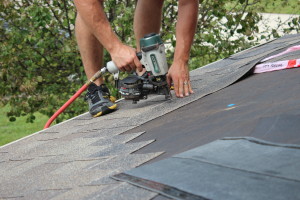 Example:  Let's assume that your roof is damaged in a windstorm and needs to be replaced.   Let's also assume the life expectancy of your roof is 30 years.   Your roof is only 5 years old so under an actual cash value coverage settlement your insurance company will depreciate your roof by five years.  
Most of your claim will be covered with a deduction of five years of depreciation.
What happens if your roof is 29 years old under an actual cash for coverage settlement?  
Unfortunately in this instance you will be covering most of the claim out-of-pocket because your roof has virtually no value left because of the age of the roof.
The broad and special policy form can provide replacement cost coverage which is different than actual cash value coverage.  Replacement means exactly that.  If you have full replacement cost coverage on your roof your only expense will be your deductible as long as you meet other requirements of the insurance company. 
One such requirement is ensuring you maintain the correct amount coverage on your home to qualify for replacement cost coverage.  
Cincinnati landlord insurance can be complicated and it's important to work with an expert.
We Can Help You Find the Best Insurance in Ohio, Kentucky, Indiana, or Michigan!
Because we are a leading independent insurance agency we have the ability to advise and shop for the insurance policy that is best for your individual circumstances and needs.
The biggest mistake policyholders make is not fully understanding the differences in coverage between policy forms. A cheap home insurance policy may not provide the coverage you need.
Call 513-662-7000 to speak with a  Cincinnati homeowner's insurance expert, or for a quick online quote: Click on Pathway.  
Prices Vary Wildly for CincinnatiHomeowners Insurance.  Call for a Rate Quote Today.
Pathway Insurance is a leading independent agency in Cincinnati and we offer the best coverage for car, home, business, life, and health insurance in Cincinnati.